STARK Stainless Steel Motors
We know that in addition to maximum production and profit, your highest priority is product safety.
Legal requirements in the field of food safety are becoming increasingly strict, both at European level and worldwide.
To guarantee this safety STARK electric motors produces efficient, hygienic, economical and sustainable stainless steel motors
with a high return on productivity, efficiency and usability.
Food-grade quality
IP69K protection class
Anti-condensation heater
Smooth surface for easy cleansing
Equipped with VITON O-rings/seals
Special one-way membrane pressure valve
Worldwide stock and distribution
EU-engineered components
Molded terminal block
Two-year warranty
Contact us and learn more
STARK Stainless Steel: High-quality Motors at Competitive Pricing
STARK Stainless Steel electric motors are the answer to the demand for reliable high performance stainless steel motors that meet European standards and at the same time are available at a very favorable price at an extensive network of European distributors.
Fast Delivery
Safe Packaging
International Distribution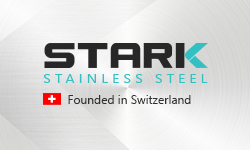 High quality stainless steel motors at competitive pricing for companies that embrace the future of industry
Stainless Steel Applications
Stainless steel motors are pre-eminently the solution for environments where the highest hygiene standards apply, but also in situations where extremely high humidity levels and frequent cleaning cycles occur.
Companies all over the world use STARK Stainless Steel Electric Motors in applications, machinery and equipment such as conveyor systems, mixers and cutting, sorting and filling machines in the Food & Beverage industry, chemical plants and medical production facilities.







ABC Group is an innovation network of global partners that offers high quality industrial drive systems and components like STARK Stainless Steel motors. By joining forces, ABC Group makes the way larger enterprises work available to smaller companies.
Central to this is international excellence, networks and growth. ABC Group is further characterized by:
High quality in production, sales, service and maintenance
Smart and cost efficient logistics organization
Large EU stock with short delivery times thanks to the extensive European distribution network
R&D, testing, prototyping and integration in drive systems
Customer-specific electric motor and drive solutions
Knowledge sharing and exchange of strategic information between all partners
Gemeinsam sind wir STARK
Together we are strong